Buddy+  Management Support Solutions
Tokio Marine
 & Nichido Fire Insurance Co., Ltd.

offers useful solutions to various management challenges.
A digital network has been created to provide sutra-work for various management issues arising from challenges together with professionals in various fields.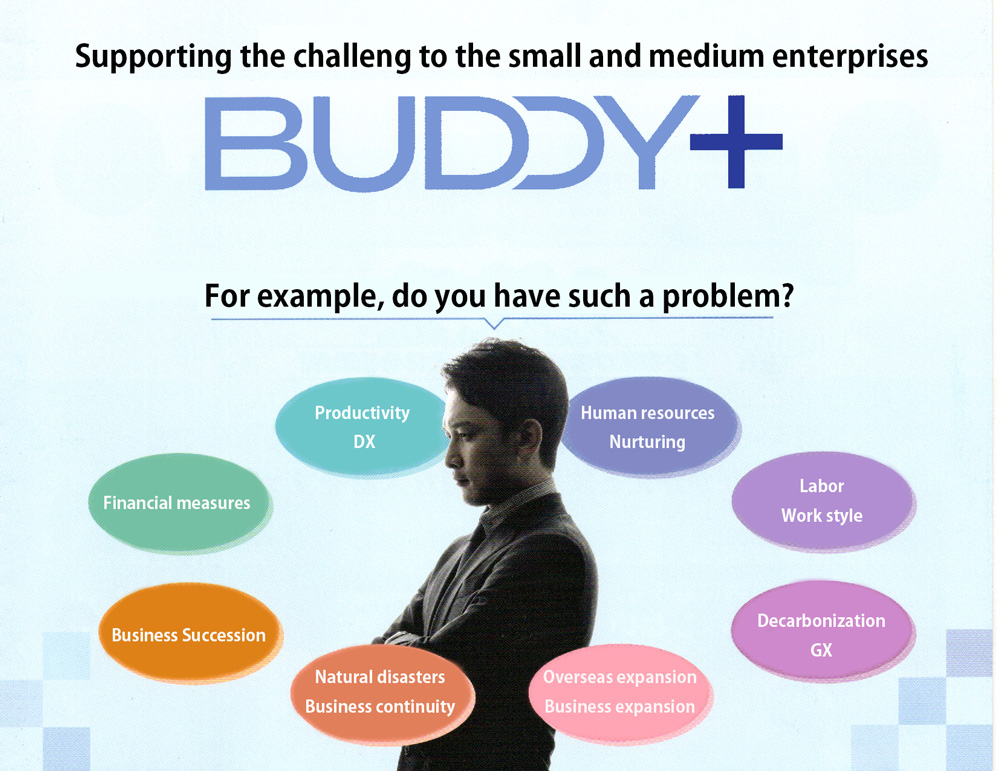 Financing Measures
Free  
known the amount of money you receive immediately
Grants and Subsidies
Easy Free Diagnosis
Productivity Improvement
・DX
fee
based 
Professional human resources
support in the form of outsourcing
Human Resource Securing
and Training
Free  
Efficiently develop human resources
Learn anytime
e-Learning Library
Labor and Work
with insurance  
good working environment
Health Management Support
Packaged Services
Business Succession
Free  
Comprehensive M&A support platform
Batons Matching
Service
Natural Disasters and Business Continuity
with insurance  
World-class Disaster Recovery Specialists
Supporting Early Business Recovery Belfor
Overseas Expansion
Free  
Companies wishing to expand overseas Backup
Overseas Expansion Support Services
Decarbonation・GX
無料  
What is GX?
Where do I start?
GX First Time Guide
Speedy provision of useful information for management
Seasonal information on management, announcements of seminars, services that can be used in everyday life, insurance coverage, etc.
We will send you useful information by e-mail.
We will provide information promptly even when an immediate response is required, such as in the event of a disaster.