"Cyber-attacks" are evolving daily to the point that no amount of countermeasures can prevent them.
If you are a victim of a cyber-attack, what kind of response is required of you?
In recent years, the risk of information leaks due to cyber attacks has increased!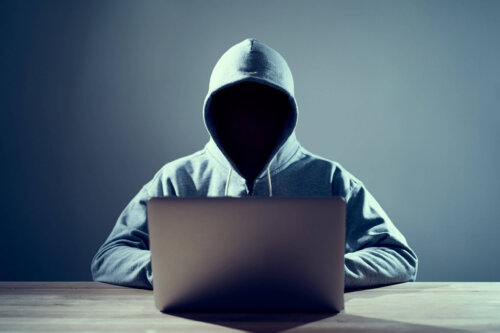 Cyber attacks have become more sophisticated in recent years, and there is concern that the number of attacks will further increase in the future.
No matter how many defensive measures companies take against cyber attacks, it is difficult to completely prevent cyber attacks because of the overwhelming dominance of attackers, who change their attack methods and slip through the countermeasures.
As long as the risk of such attacks cannot be reduced to zero,
companies need to take measures based on the assumption that they will be infiltrated from the outside.
Cyber-attack Tactics are Varied.
It is the typical cyber-attacks example such as targeted email attacks, ransomware and other malware attacks, website defacement, DDoS attacks, and unauthorized access by using IDs and passwords, impersonating other people, and overcoming firewalls, etc.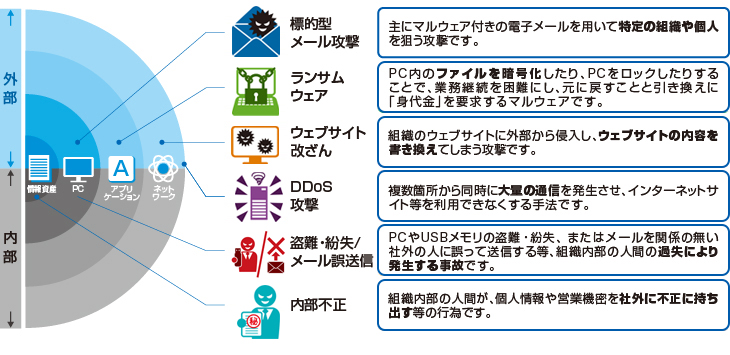 Why is it so difficult to deal with cyber incidents?
In many cases, the damage is suddenly apparent, causing panic within the company.。
No idea how to deal with it
Companies have little experience in responding to incidents and many unknown attacks, so they do not immediately know how to deal with them.
No time to immediately dealing
The company is required to take immediately action recovering from the damages by resumption of business, preventing the spread of damage, and legal compliance, etc
Difficult business decisions required
Difficult management decisions that are not normally experienced are required, such as external publicity, dealing with the media, and dealing with criminals.
Importance of Initial Response to Cyber Attacks
It is extremely important for companies to
detect cyber-attacks at an early stage and promptly take initial actions

such as investigating the cause of the attack in order to mitigate subsequent risks to the company.
However, since cyber attackers leave no traces of their attacks, it is difficult for companies to
detect and recognize cyber attacks by themselves

, and by the time they become aware of them, it is often too late.
In addition,
the time and cost required to investigate the cause of the problem is a heavy burden

on companies

, as it requires a prompt response by experts with advanced knowledge and skills in security.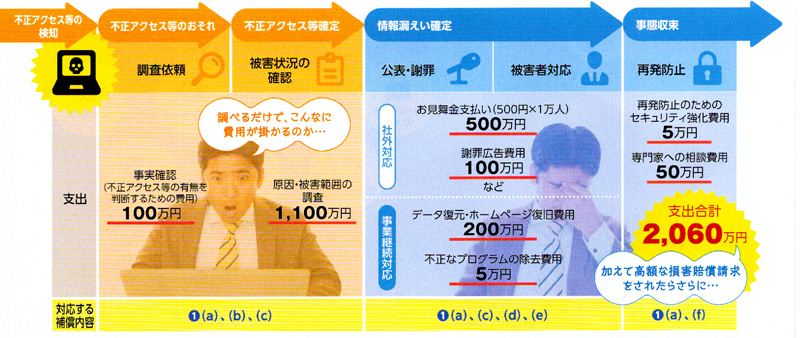 We provide full support for costs and responses related to cyber risk.
Cyber Risk Insurance provides comprehensive coverage for various types of damages caused by cyber risks surrounding business activities under a single policy.
(1) Indemnification for liability for damages
(2) Compensation for cyber security incident response costs
(3) Compensation for computer system interruption (optional)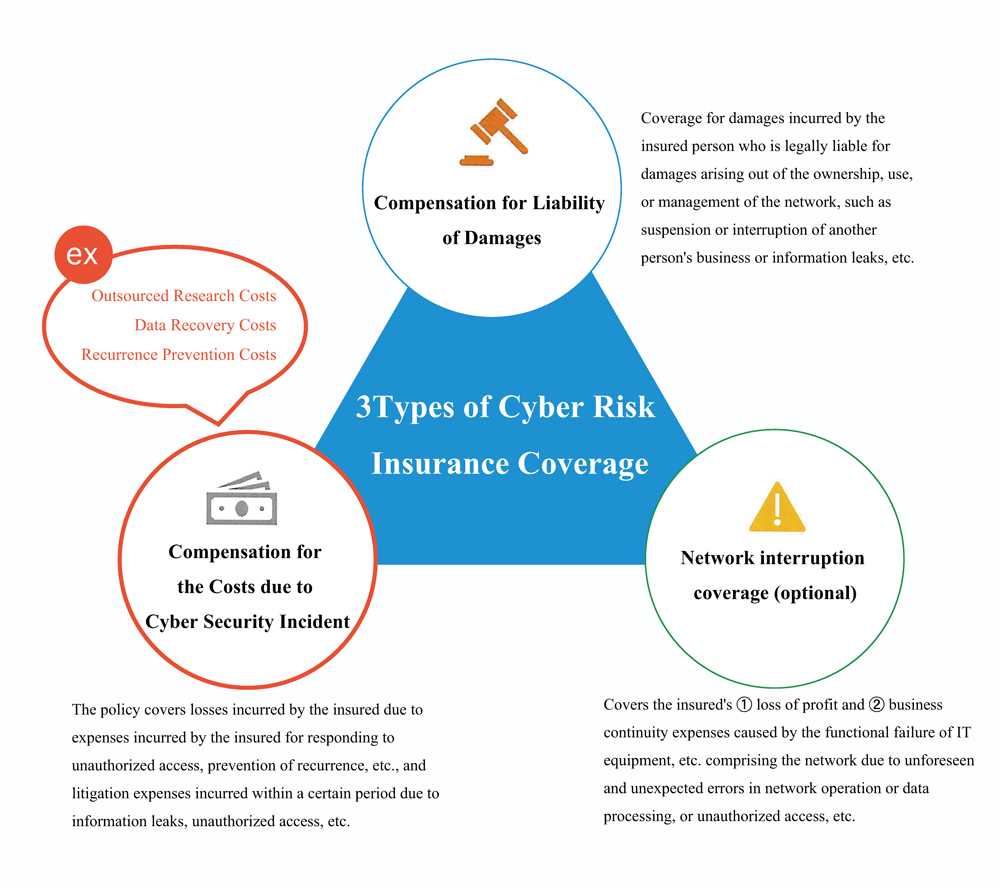 Cyber Risk Insurance Features
【1】 Comprehensive Coverage
A single policy provides comprehensive coverage for various types of losses arising from cyber risks surrounding business activities.
【2】Investigation costs for "threats" of cyber-attacks, prevention of recurrence, and computer system restoration costs (optional) are also covered.
In addition to various response costs when a cyber-attack is detected, the policy also covers the cost of requesting an investigation by an external organization when the "threat" of a cyber-attack is detected, the cost of preventing recurrence after the incident is resolved, and repair costs when a computer system is damaged.
【3】Compensation for Claims made Overseas
Compensation is also provided for claims for damages made abroad.
【4】Profit loss and Business Continuity Costs also Compensated (optional)
Its own profit loss and business continuity expenses will be also compensated for due to interruption of computer systems.
【5】Coverage for Bodily Injury and Property Damage caused by Cyber-attacks (optional)
Coverage is also provided for bodily injury to another person or damage, loss, theft or defrauding of another person's property caused in Japan by a cyber attack arising out of operations in Japan.
【6】Comprehensive Cyber Risk Support Services
In addition to insurance coverage, "Comprehensive Cyber Risk Support Service" is available.
Comprehensive Cyber Risk Support Service
This service is available to customers who have contracted for Cyber Risk Insurance and Total Assist Business Insurance (coverage for cyber and information leakage accidents, and information leakage accidents).
1.Emergency Hotline Service
(Free of charge)
We offer peace of mind by providing a dedicated contact point where customers can consult directly with us on a variety of cyber risk issues they face.
The service is available
24 hours a day, 365 days a year
(After business hours, you will receive an answering machine.)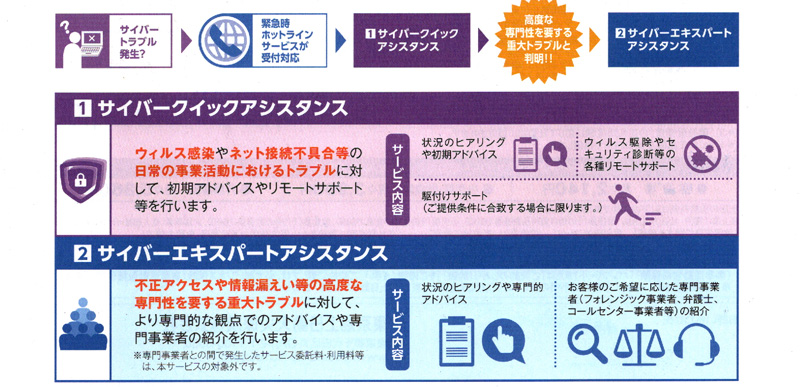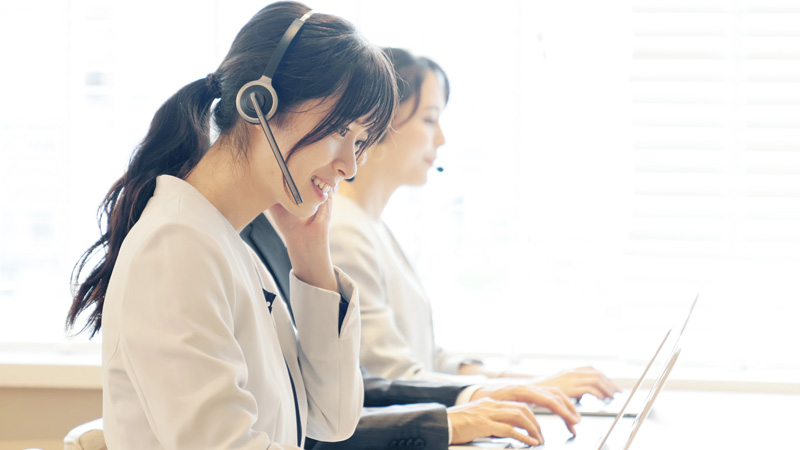 Emergency Hotline Service Details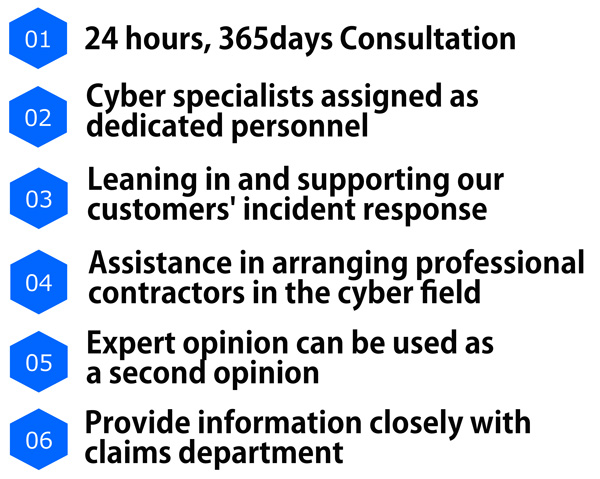 2.Information and Tool Provision Service
(Free of charge)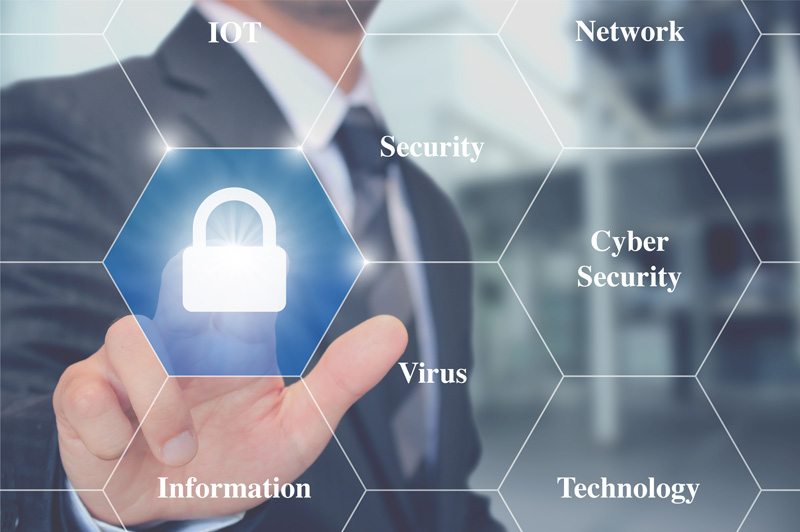 The following information and tools related to cyber risks are provided on Tokio Cyber Port.

(1) Incident response flow
(2)Textbooks for employees
(3)Cyber Risk Information Magazine
(4)Regular distribution of e-newsletter
3.Benchmark Report Service
(Free Cyber ​​Risk Insurance Only)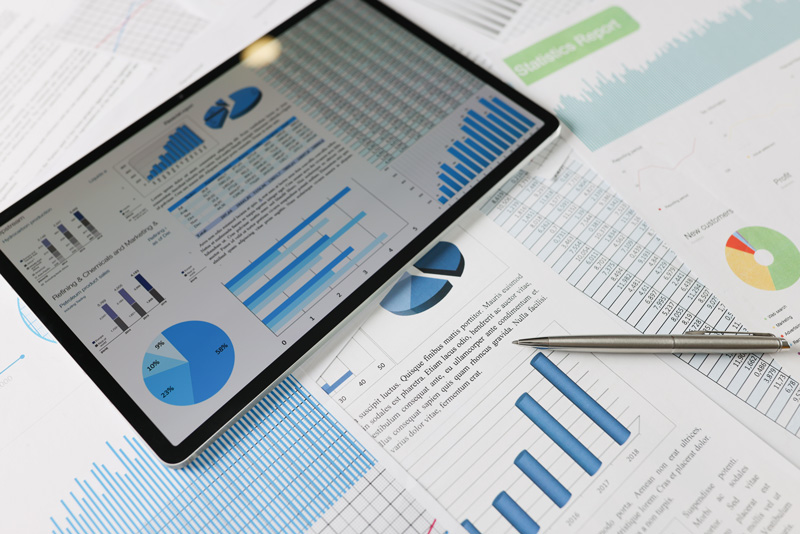 Utilizing the expertise of Guidewire, Inc. of the U.S., we analyze cyber risk factors to which companies are exposed from various angles and provide a cyber risk benchmark report that can be used as a benchmark or fixed-point observation within the industry.
4.Simple Risk Assessment Service
(Free of charge)
| | |
| --- | --- |
| Qualitative Risk Assessment Services | We will conduct a simple and qualitative risk assessment of your security management system. |
| Quantitative Risk Diagnostic Services | We perform quantitative risk diagnosis by simply calculating the probable maximum loss (PML) for cyber risk based on certain scenarios. |
5.Professional Business Referral Service
(Free of charge)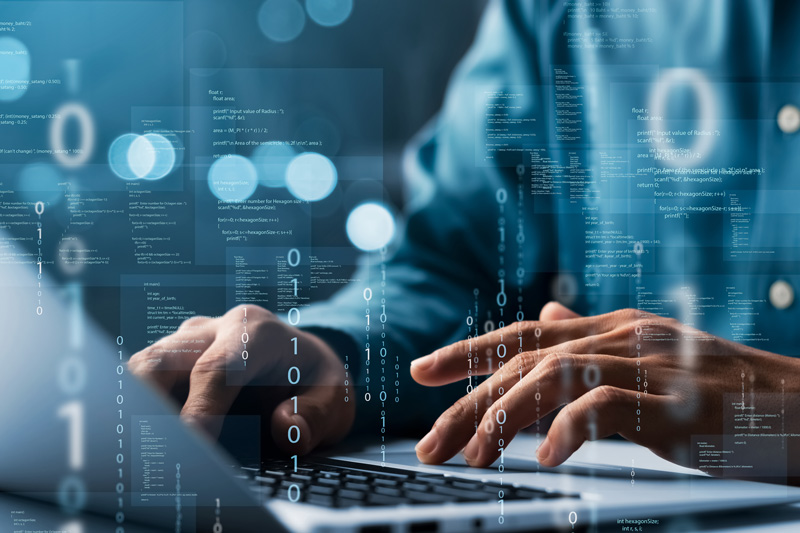 | | |
| --- | --- |
| Ordinary Referral Service | We can introduce you to specialized providers for pre-incident security consulting, vulnerability assessments, security log monitoring, and other services. |
| Contingency Referral Services | We will introduce you to specialized businesses that meet your needs, such as support for rushing to the scene of an accident, investigation and emergency response, and support for setting up a call center. |