Medical insurance that suits you, covering short-term and long-term hospitalization, inability to work, emergencies, and advanced treatment
Anshin Life Insuarannce Co., Ltd is promoting the survival security revolution Nextage.
We firmly support the "blank area of ​​coverage" that could not be covered by conventional medical insurance and death insurance.
Feat. 1 Comprehensive coverage for hospitalization and surgery
Standard Plan
 You can receive a large amount of money even for short-term hospitalization with two options (Initial Hospitalization Security Special Provision/Hospitalization Lump-Sum Benefit Special Provision).
 Hospitalization for three major diseases (cancer, heart disease, cerebrovascular disease) is guaranteed for an unlimited number of payment days.
More generous coverage for serious surgeries. (In the case of type III, depending on the type of surgery, 5 times/10 times/20 times/40 times the daily amount of hospitalization benefits)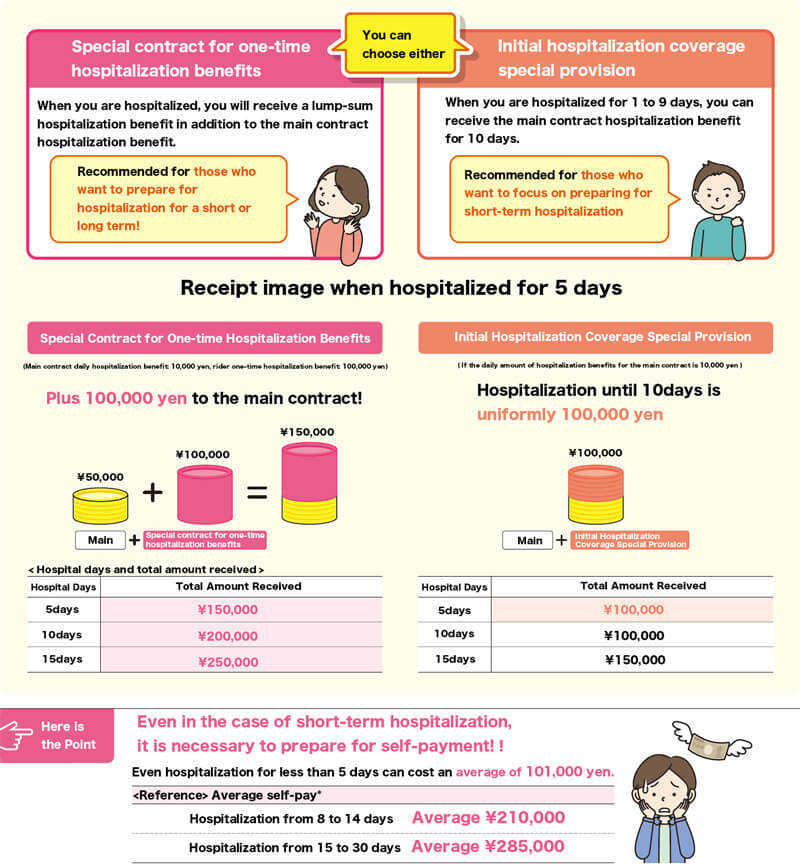 *In addition to medical expenses, meals, extra bed charges, transportation expenses (including transportation expenses for family members who come to visit), clothing, daily necessities, etc. If you used the high-cost medical care benefit system, the amount after using it.
Source: (Public interest incorporated foundation) Life Insurance Cultural Center "Survey on life insurance in the first year of Reiwa"
It is necessary to prepare for both short-term and long-term hospitalization.
Many people leave the hospital after a short period of time.

[Note] Figures do not add up to 100% due to rounding.
Source: Created by our company based on the Ministry of Health, Labor and Welfare "Patient Survey 2017" *Excludes singleton natural birth/other pregnancies, deliveries and births

Hospitalizations for the three major diseases tend to be long-term。

Source: Ministry of Health, Labor and Welfare "Patient Survey 2017"
Feat.2 Secure death protection for life
If you have a policy that meets the prescribed conditions and pays a death benefit
The death benefit amount is calculated by multiplying the daily hospitalization benefit amount by the death benefit amount.
You can set the death benefit payout ratio from 0x to 500x (in units of 50x) based on prescribed conditions. (*1)
The surrender value after the premium payment period expires is 10 times the daily amount of hospitalization benefits, including the death insurance portion.
The death benefit of this insurance provides lifelong death protection at a lower premium than general death insurance by eliminating surrender value during the premium payment period.
(*1) For contracts (member contracts) where the policyholder, insured person, or insurance premium transfer account holder is a corporate agency or an officer or employee of a specified related corporation, the agency can be handled only if the benefit ratio of is within 100 times.
| | |
| --- | --- |
| Funeral costs need to be considered. | You may also need to think about graves. |

In the case of adding an optional "advance rider for specific malignant neoplasm insurance claims"
If you have been diagnosed with a specific malignant neoplasm (*2), you can request to receive an insurance payment in advance instead of receiving a future death benefit.
This special provision can be added to a contract that pays a death benefit (if the death benefit payment ratio is selected as more than 0 times) and has a special provision for exemption from payment of specified disease insurance premiums. .
No insurance premium is required for this rider.
When the diagnosis of malignant neoplasm*2 corresponds to any of the following:

・Classified as stage III or IV according to the malignant neoplasm staging*3
– Recurrence after no malignant neoplasms were observed
・Metastasis to other organs

Including cases where there is no standard treatment, standard treatment has ended*4, or standard treatment is expected to end*4.
(Note) Future death benefits will expire on the date of claim for specific malignant neoplasm benefits. It is not when the diagnosis of a given cancer (malignant neoplasm) has been confirmed.
*2 Intraepithelial neoplasms are not covered.
*3 "Malignant neoplasm staging" refers to the staging stipulated in the "TNM Classification of Malignant Tumors, 8th Edition" published by the International Union for Cancer Control (UICC).
*4 "Completion of standard treatment" means that the patient received all the standard treatments that are medically effective, but they were not effective.
Feat.3 Support for medical expenses and living expenses when unable to work
You can receive monthly benefits if you are unable to work due to 5 major illness, or if you become disabled or require nursing care due to illness or injury.
Benefits are also available for home care as directed by a doctor.
(*5) The insurance period for the 5 severe diseases/disability/severe nursing care rider will expire at the age of 60, 65, or 70, and will not be renewed. For details, please check the "Contract Guideline/Terms and Conditions".
How will your life be affected if you can no longer work?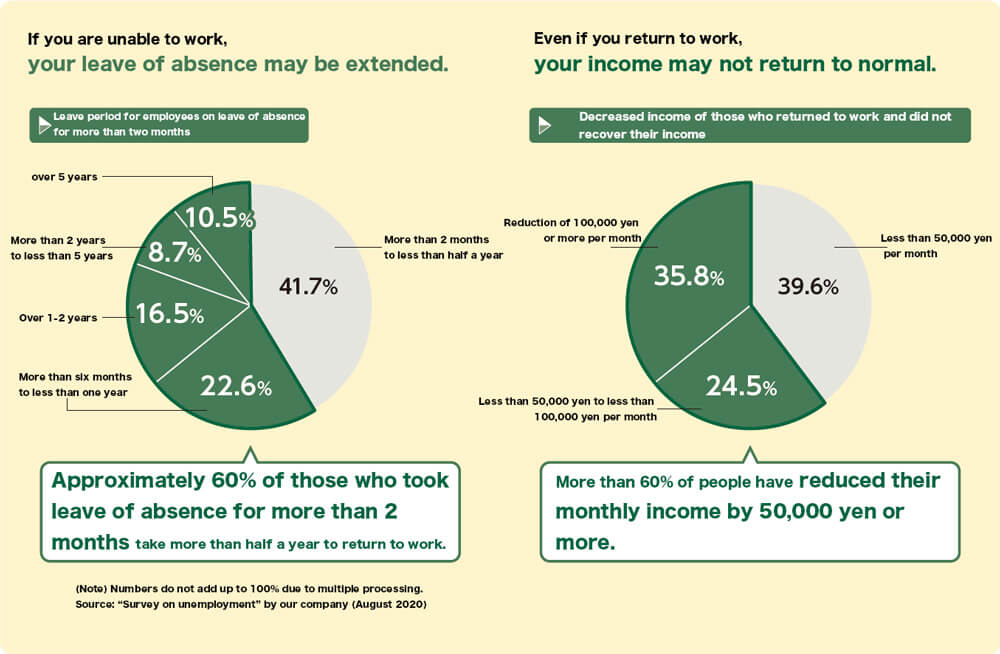 Feat.4 Enhanced coverage for women
If you add the "women's sickness insurance rider" as an option
If you are hospitalized for a specific disease, including diseases specific to women and the three major diseases (cancer, heart disease (excluding hypertensive heart disease), and cerebrovascular disease), you will receive a separate sickness hospitalization benefit from the main contract. You can receive the hospitalization benefit of this rider.
When you have a mastectomy for breast cancer (malignant neoplasm of the breast) and undergo breast reconstruction surgery, you can receive a lump-sum breast reconstruction benefit. (*6)
If you add the "Initial Hospitalization Security Special Provisions", you can receive hospitalization benefits for 10 days even if you are hospitalized for a short period of 9 days or less (optional addition).
You can choose between an unlimited or 60-day payment limit type for hospitalization benefits.
In addition to common ailments, women face risks unique to women.

Diseases to watch out for change with age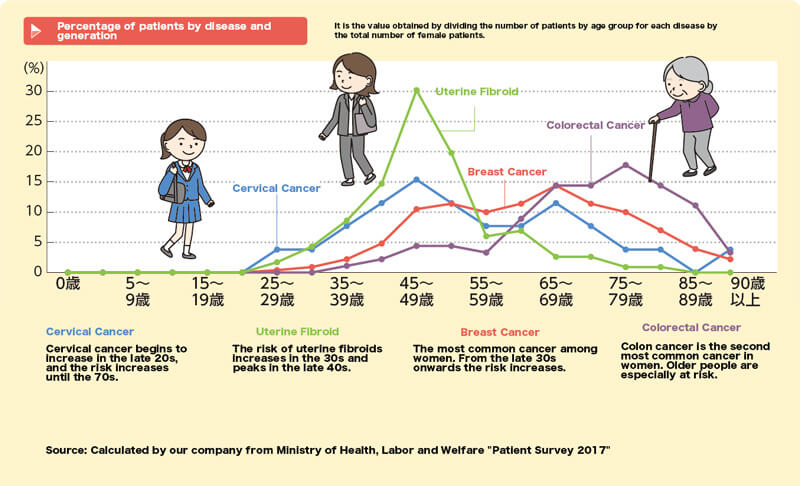 (*6) Intraepithelial neoplasms are not included in breast cancer (malignant neoplasm of the breast) covered by the breast reconstruction benefit. If you develop malignant neoplasms* or intraepithelial neoplasms* before the day 90 days have elapsed from the start date of your liability, including that day (including before the start of liability for this rider), you will not be eligible for breast reconstruction benefits. I do not want to pay. In this case, the breast reconstruction benefit will not be paid even if a new malignant neoplasm occurs thereafter.
(*) Excludes malignant neoplasms and intraepithelial neoplasms that were known to us by notice, etc. at the time of contract.
For Customers Considering Insurance
Precautions when making a contract
This website provides an overview of our products. Before signing a contract, be sure to check the "Important Matters Manual" as there are notes that you should check before signing a contract.